Cruises in France.
The Johanna way…
During the summer season, we offer luxury cruises in France. Detailed information can be found on our website: www.johannacruises.com. These cruises are "all-inclusive" from pick-up at your hotel, all drinks and meals (2 dinners taken at a local restaurant are also inxcluded), all excursions with guide and minibus transfer, entry fees, champagne or wine tastings, taxes,… till drop-off at central point or hotel in Paris – Reims area.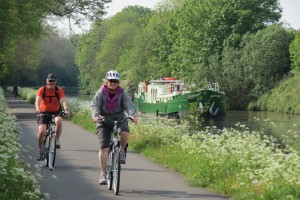 Affordable cruises
    for the more adventurous travelers…
Special prices on request for tailor made charters of the whole ship: cruises as B&B or half board, with or without guided minibus excursions or organising self guided visits by bicycle or on foot, just relaxing on board, adaptable navigation hours… Contact us for availability, conditions and prices. (Priority is given to "all-in" luxury cruise bookings, either direct or via our agents.)
Routes in France
Bruges – Paris: Bruges – Deinze – Menen – Lille – Douai – Ruyaulcourt – Péronne – Noyon – St Leu d'Esserent – Pontoise – Bougival – Paris.
Visits possible to Ghent, Flanders Fields, Lens, Armentières, Arras, Somme area, Amiens, chateau Chantilly, Auvers sur Oise, chateau de Monte Cristo, etc…
Upper Seine: Evry – Melun – Moret sur Loing – Nemours – Château Landon – Montargis.
Visits to chateau de Fontainebleau and Vaux le Vicomte, medieval castle of Nemours, painters villages of Moret and Barbizon, etc…
Upper Loire: Montargis – Montbouy – Rogny les 7 Ecluses – Ouzouer sur Trézée – Briare – Châtillon sur Loire. With crossing of the famous canal bridge over the Loire.
Champagne: Château Thierry – Dormans – Epernay – Condé sur Marne – Billy le Grand – Reims.
Visits of champagne caves and houses, snail farm, Lighthouse of Verzenay, Beech trees of Verzy, Chalons en Champagne, Cathedral of Reims, etc…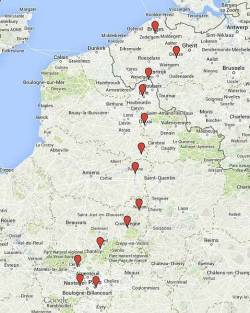 Our 2019 route calendar.